Pastel colors can help create amazing romantic day looks that are perfect for a date, school or meeting friends for lunch. But pastel on pastel — now we are talking about serious fun time!
And it's super easy. Here I am pairing a pastel pink coat with a pastel blue sweater. Don't you just love the Cinderella's ball gown kind of blue and the muted bubble gum pink? I love them respectively but even more so as a pair! The sweetness of the feminine pastel colors are perfectly balanced by the oversize cut and chunky look. It must be true that colors affect our moods because wearing these colors really brightens up my day.
关于蜡笔色单品,刚刚开公众号时就写过一篇《冬日柔和蜡笔色》,菜单栏"穿衣记"里有这一篇,有兴趣可以去看看。
当时的Outfits不过是蓝色大衣配同样是冰蓝色的阔腿裤,再加上白色单品,很干净。
蜡笔色单品如果和基础色系搭在一起,虽说色调柔和养眼,但怎么也跳脱不出日常,穿出去聚餐逛街,上学约会都合理。上一套搭配就是这样的路数。
但如果你和我一样,偶尔会厌倦日常基础的着装,想疯一点,惹眼一些,可以尝试一下两种蜡笔色系的撞色搭配。比如下面这套粉红撞粉蓝,就很不日常很高调哦。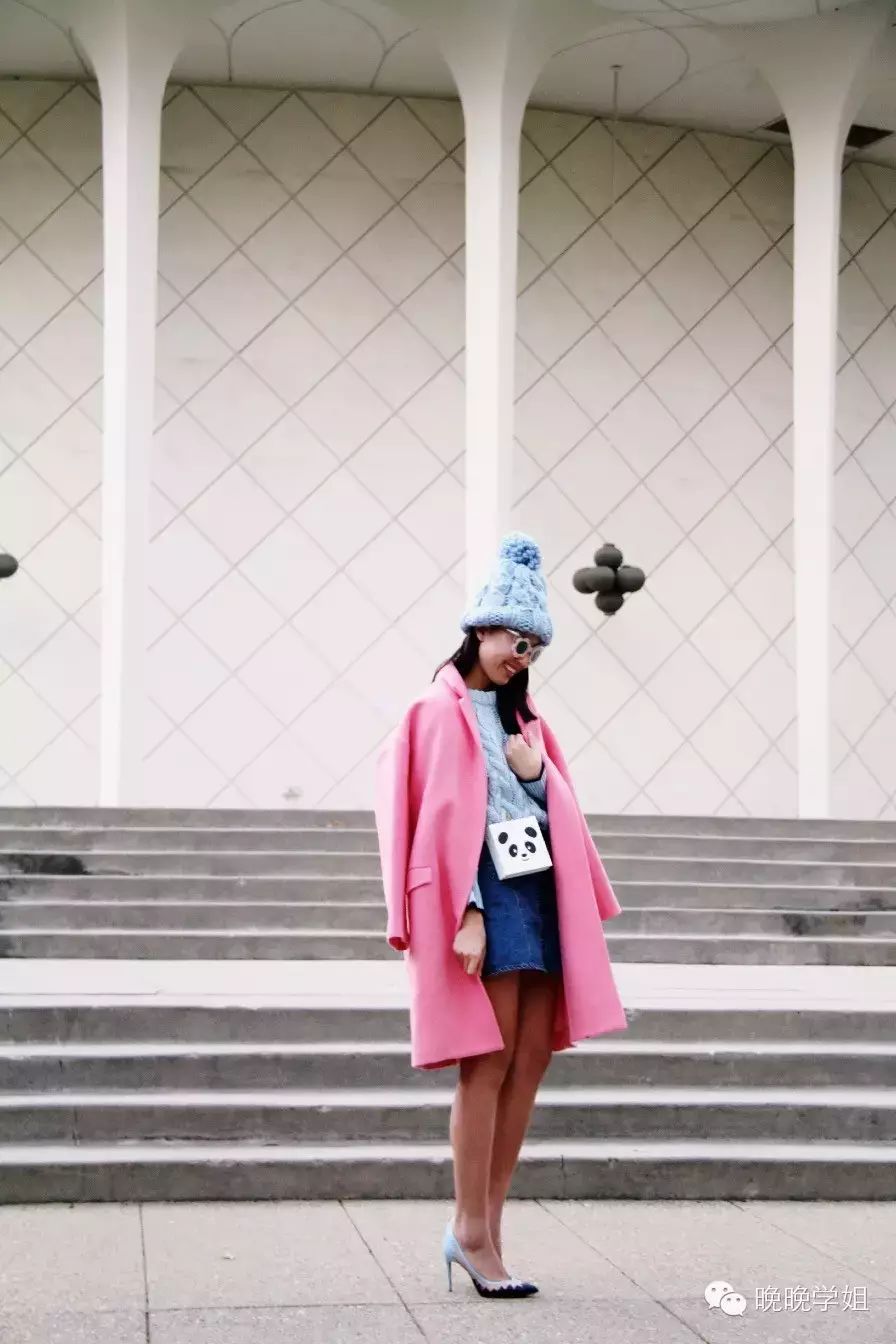 Wearing:
RAEY coat (old, similar here and here)
Topshop cable knit (sold out, similar here or here)
Urban Outfitters denim skirt: (here, similar here and here)
Bionda Castana heels (sold out, love this one and this one too!)
Charlotte Olympia clutch (old, similar here)
Urban Outfitters beanie (sold out, similar here, here and here)
Markus Lupfer sunglasses.
大概是那种穿出去别人会想'你有事吗'的搭配吧?但我自己还蛮喜欢的。偶尔这么穿一次心情很好。
同样都是烂漫活泼的蜡笔彩色,搭在一起就会更有童话感。好在这件粉色大衣设计属于oversized款式,比较帅,所以即使是嫩嫩的粉色搭蓝色,看起来也不会太做作。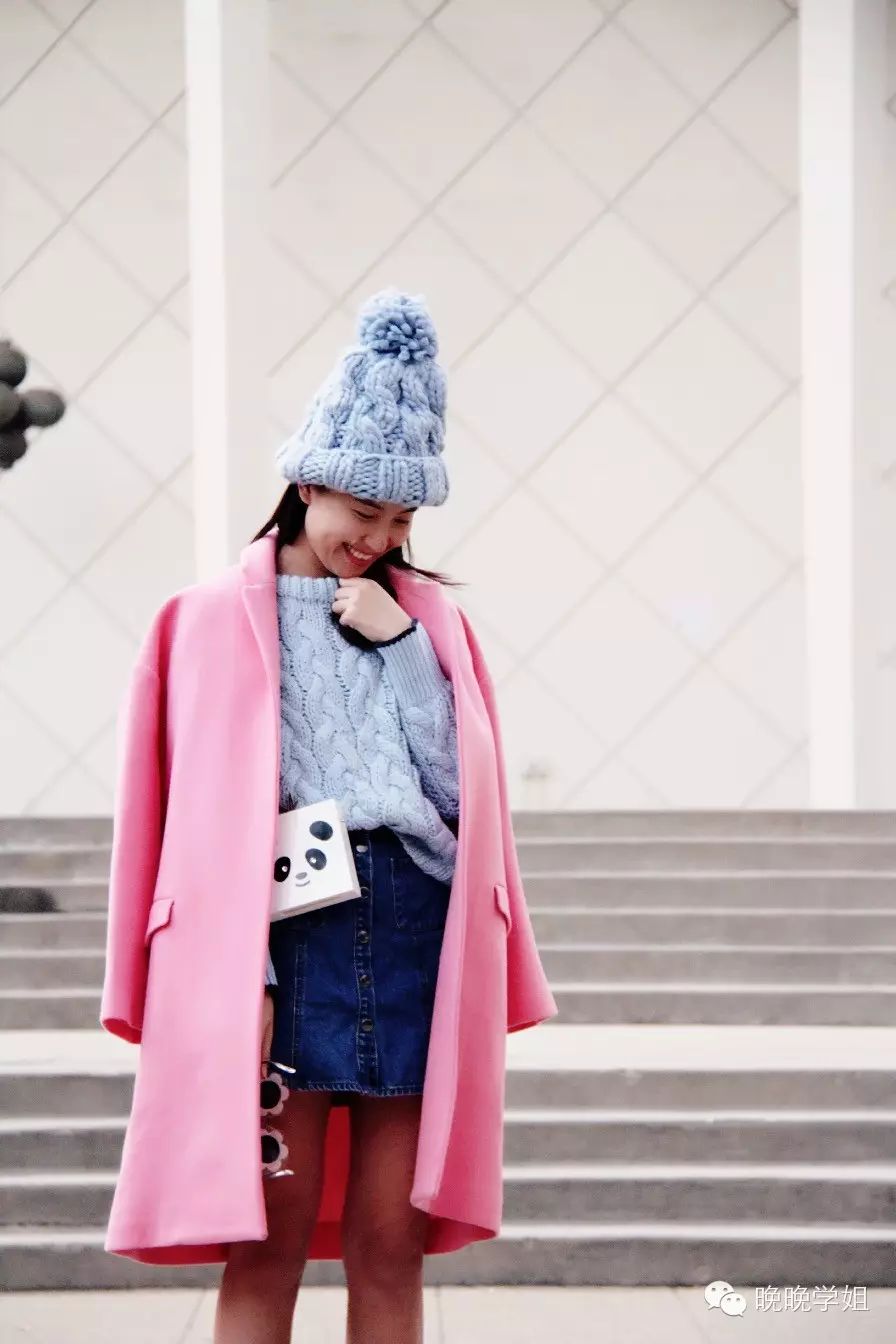 蓝色毛衣则是cable knit,非常厚实保暖,粗粗的麻花针织本身看起来就很温暖舒适。长度和剪裁是带点chunky的偏短+一点点宽大设计,粗粗笨笨的,反而有种让人立马想躲进去的别样萌感。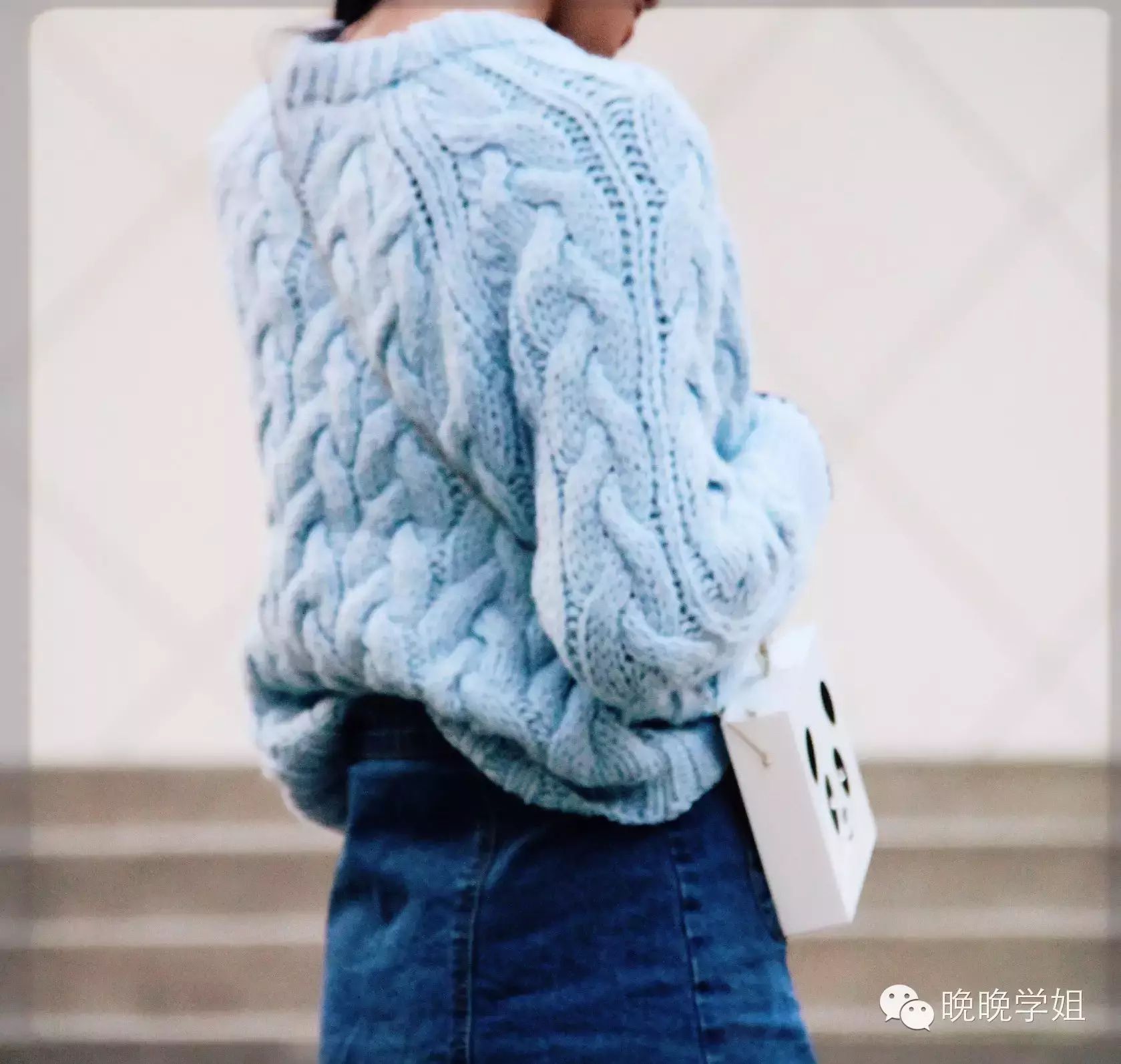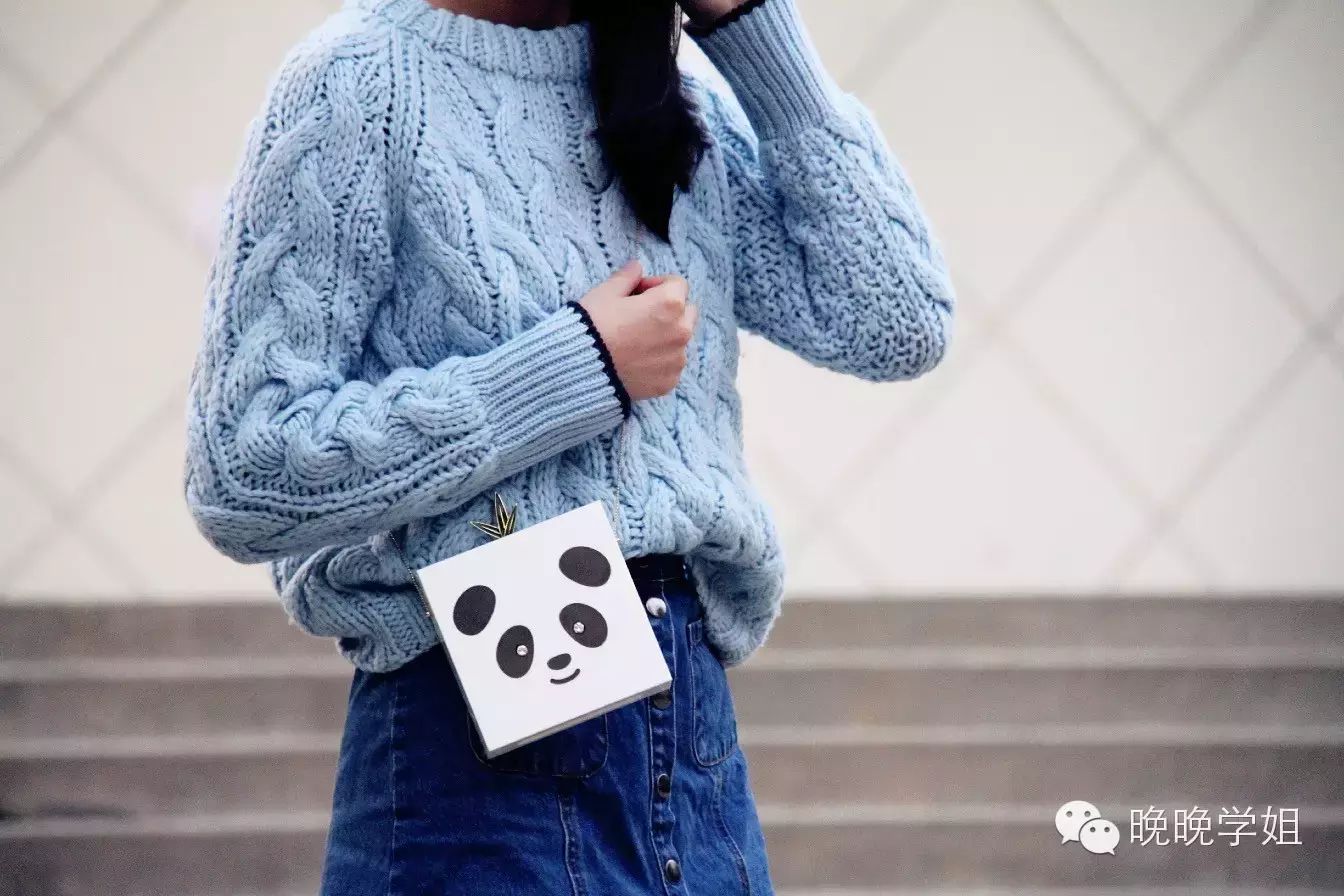 I have this cable knit beanie to go with the sweater. They are the exact same color and texture, which is adorable! I really like the youthful, carefree look. I'm wearing a blue denim skirt and I'm obsessed with it. It costs me about $50, and I have only been styling it for the hundredth time?
One day. One day, I will devote an entire blog post about this most lovely, wonderful thing.
在网上看到了同样颜色的针织帽子,也超可爱,就买来配成一套。针织帽本身就非常减龄,这种baby blue还带有节日气息,正好这一身是圣诞节去日本前一天穿的。
短裙也是靓丽青春的牛仔蓝色系,只要50多刀却已经穿过无数次了。下次我要为这个短裙出篇总结。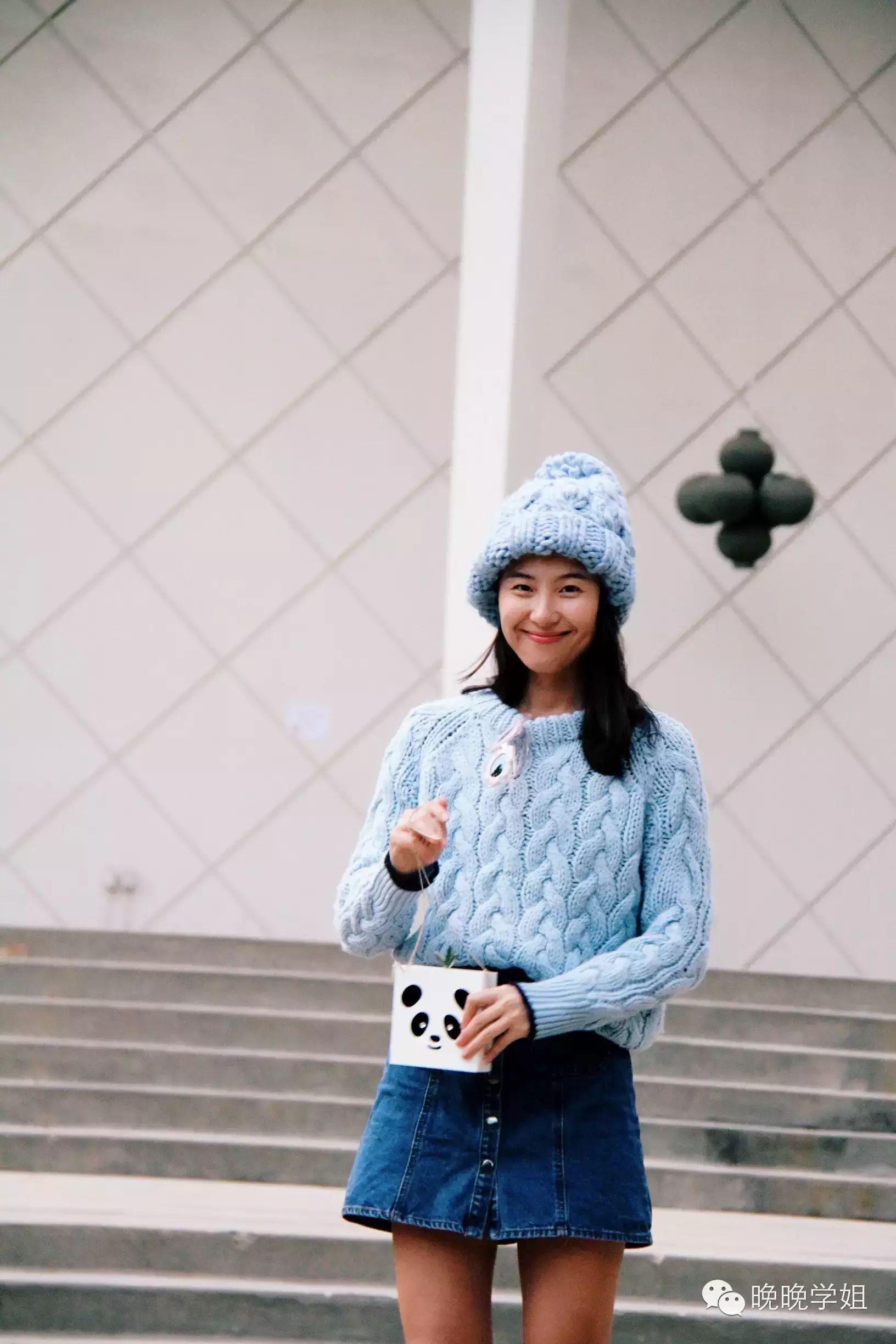 Now, I can't stress enough: adding this panda clutch (by Charlotte Olympia 2014) is key to the look because basics such as black and white among rolling hills of pastel colors will really pop, freshening up your whole look with just one touch.
小物方面,包包是Charlotte Olympia前年出的熊猫手包,配合了整体的活泼。同时这一点点的黑与白是非常重要的哦,可以稍微调和一点蜡笔色系的甜腻,让搭配看起来更清爽干净一些。
平时搭配中出现蜡笔色是点睛,但这一身粉色+蓝色单品的组合里,黑白色的出现反而是重点差别色呢,不能小觑。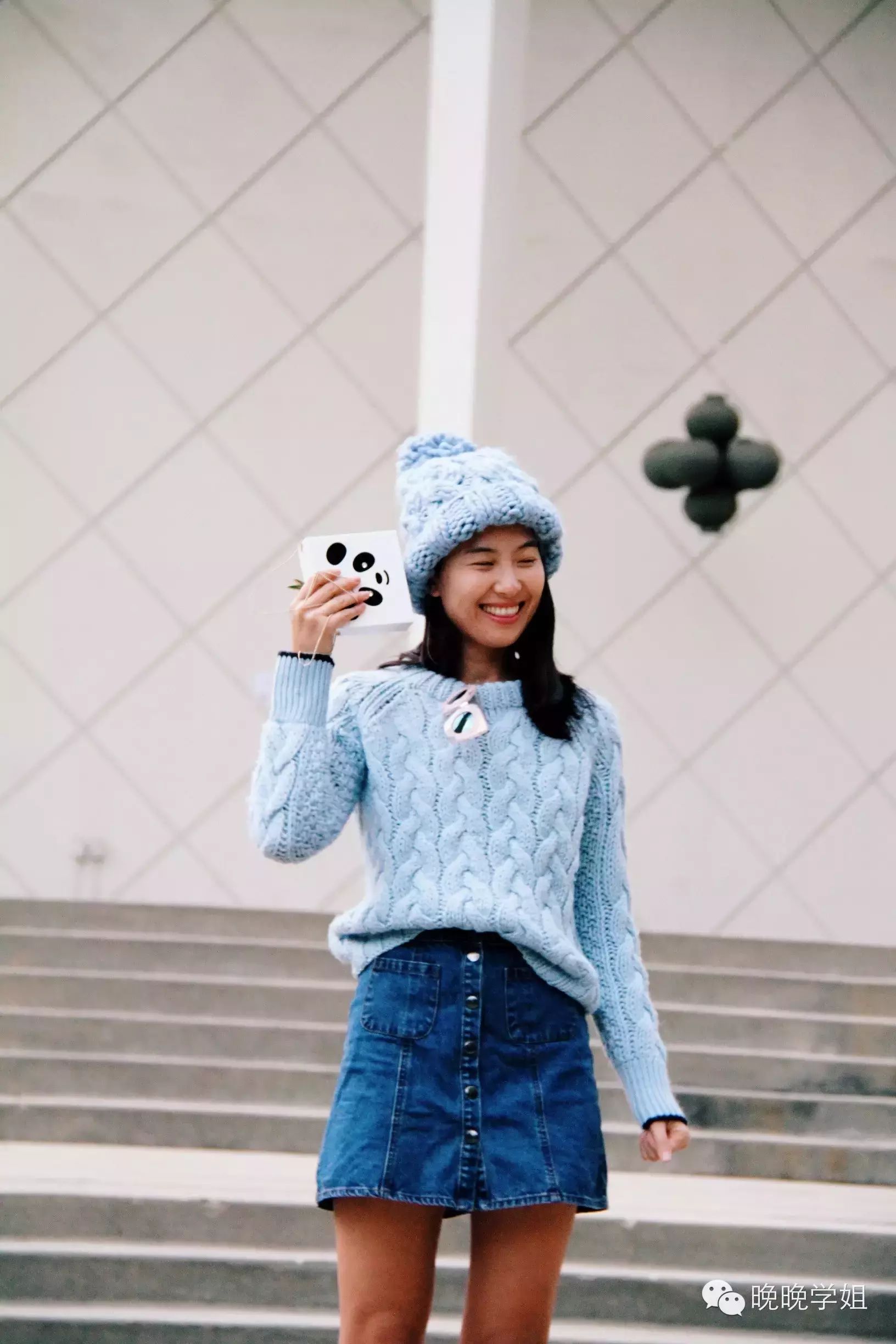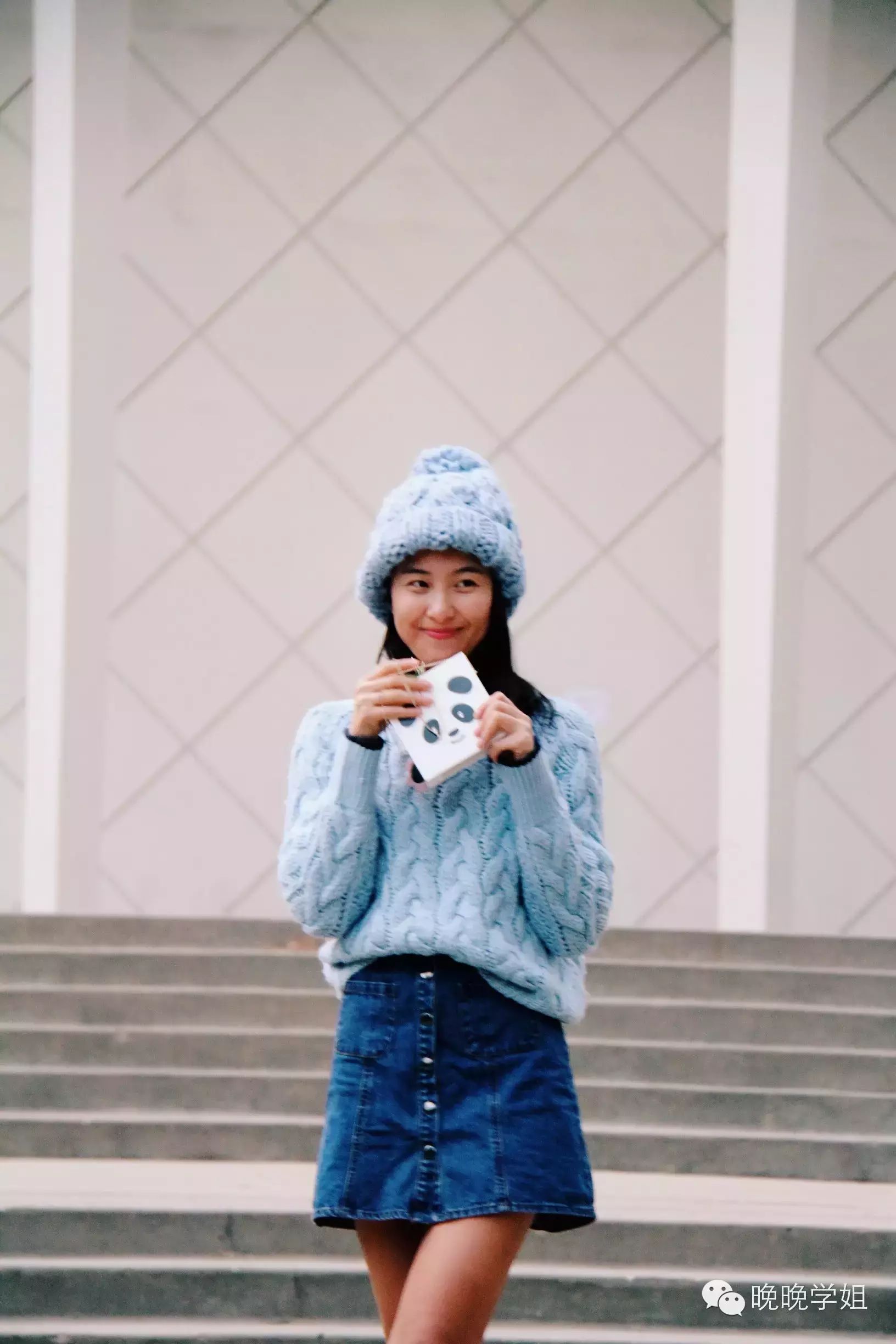 To add more fun, as if I were not having enough already, I have on this pink pair of sunglasses by Markus Lupfer that's shaped like flower blossom. They also echo with my pink coat.
墨镜则是之前在《三个欧洲小众趣味潮牌》(回复关键词'品牌'可以阅读)里介绍过的Markus Lupfer 花朵粉色墨镜,也有趣味性,又和粉色大衣呼应。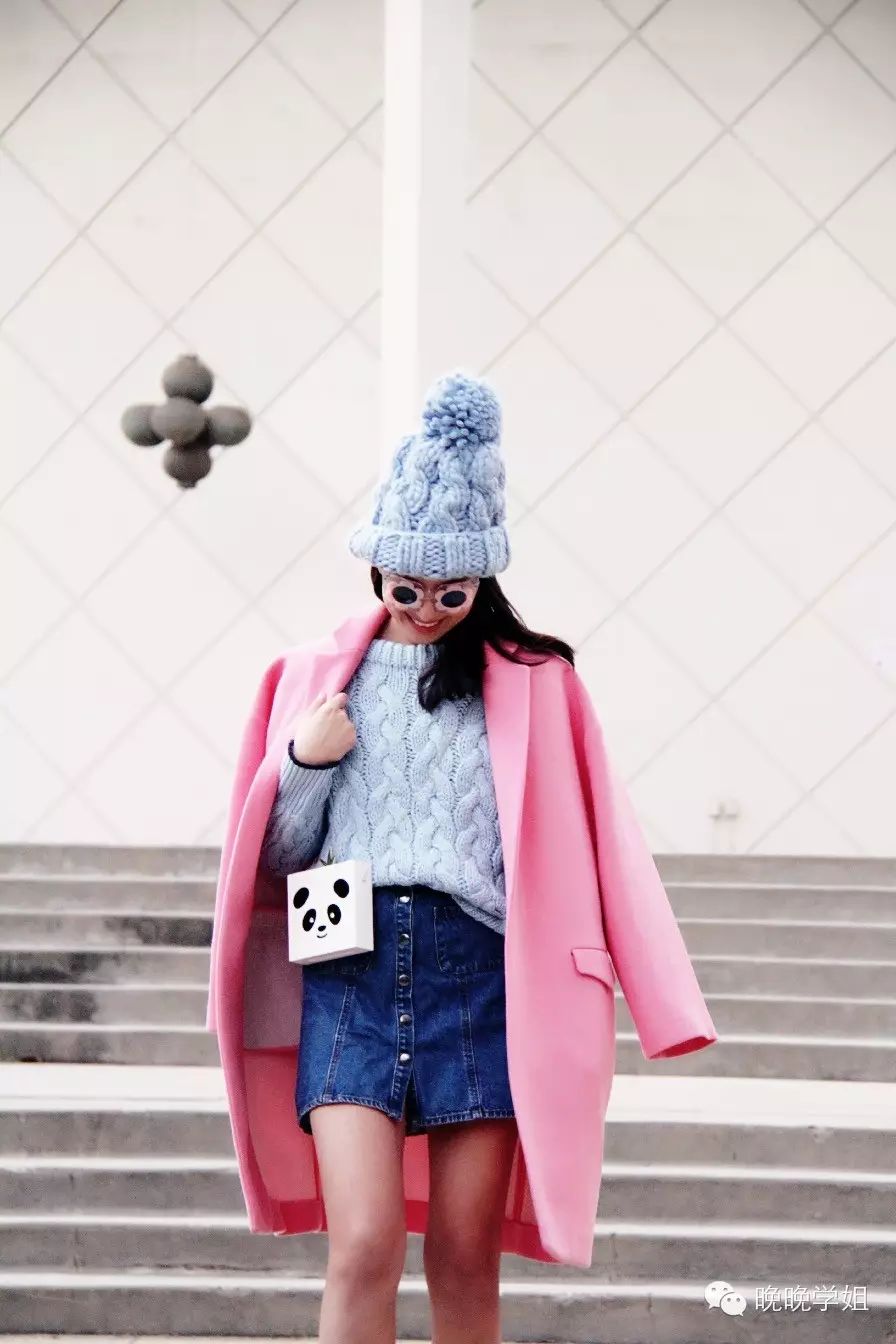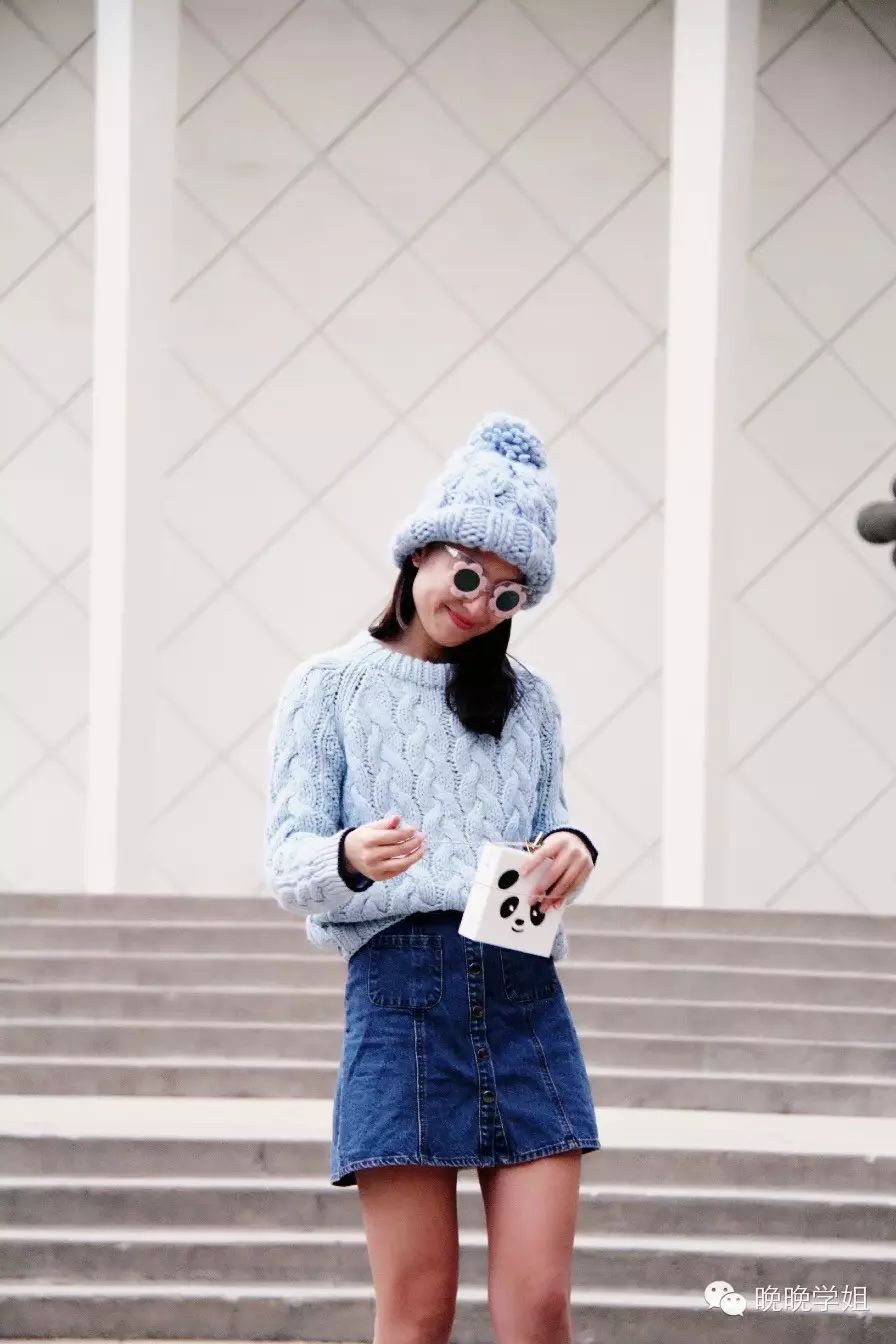 As for shoes, I'm going for more sophisticated elements to avoid looking like a giant walking infant baby because of all the pastel layers. They still have that beautiful shade of blue but are matched with black in a zigzag pattern. Along with the mesh interweaving between the two colors, this blissfully romantic look is finally complete.
鞋子选择了蓝黑拼色的薄纱面高跟鞋。按理说要走天真少女童话路线,应该选择平底鞋才对,但正因为其他单品都太过甜美可爱,鞋子就要稍微平衡一下.
颜色还是传承蜡笔色,拼色也很特别。但款式就要成熟一些,再带一点薄纱小性感,才不会让整身搭配沦为堆砌的孩子气型可爱。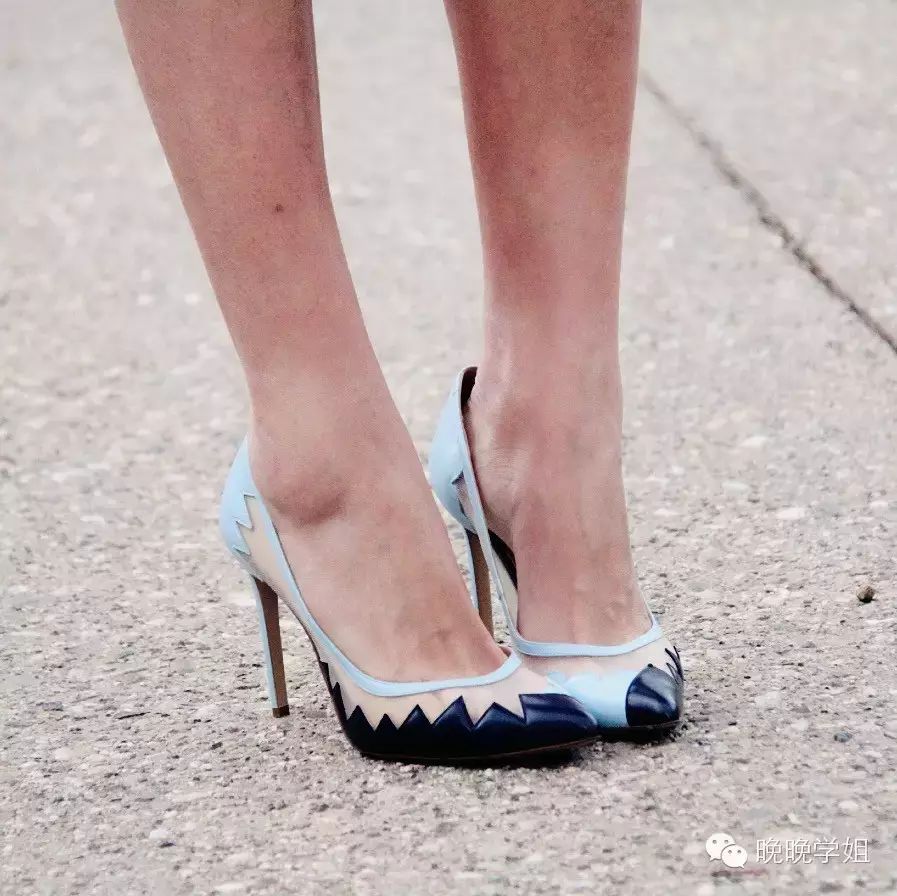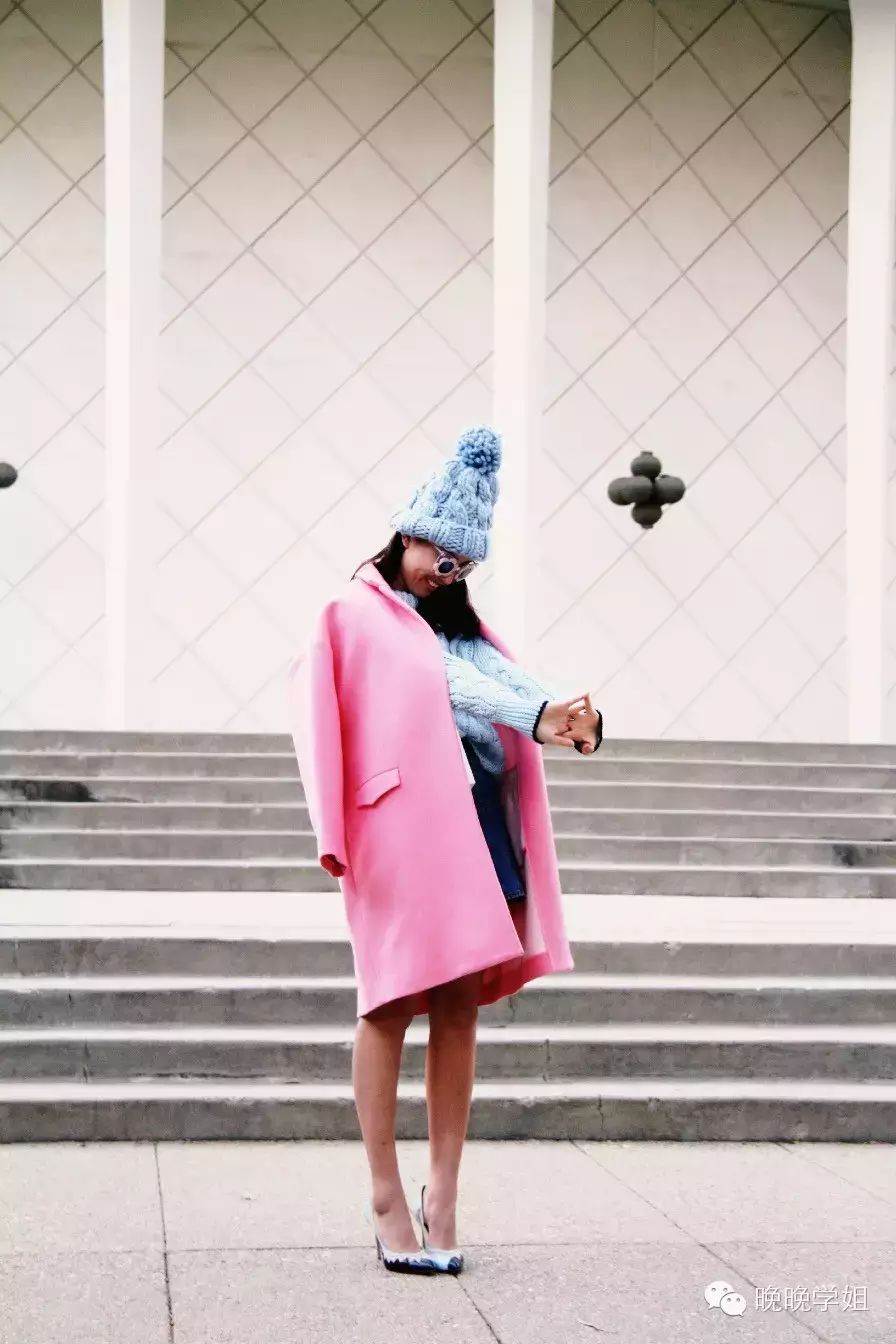 Thank you for reading!感谢大家阅读!
Shop The Post (点击图片直接购买本文单品):
---
Where you can find me:
Wechat微信公众号:晚晚学姐 或 FengwansTheorem
微博:晚晚学姐
博客:fengwanstheorem.com
Instagram:Fengwanstheorem