This passed long weekend, some friends and I went to the Olympic National Park in Seattle. We had the greatest time! It was so beautiful, and hiking left us all useless for a few days but all the same time super happy and healthy.
I thought today I could share how I packed for the trip and the looks that are both practical AND chic for a moderate hike in the mountains; some tips and tricks for you lovely ladies.
7月的第一个周末,我们去了西雅图Olympic National Park。
去国家公园这种大自然环境游玩的着装,和时髦的城市旅游、或悠闲的海岛度假肯定是完全不同的风格了。行李装备整体要走一个实用且精简的路线,在这基础上再做一些有型时髦的努力。
尤其是像我们这样正八经去hiking、每天一走就是十几公里的时候,穿搭上就更是要让步于轻便专业的运动登山服了。给大家看看我这次的行李打包,非常精炼朴素。
I packed two leggings, three tank tops, two tees, two sports bras and a jacket. I have my hiking shoes and laptop in my backpack. And that is it!
可以说是我今年出门短途旅行行李最轻便的一次了,带的几乎全部都是运动装。
两条运动leggings,两三件运动背心,两件T,两件tank,一件棒球外套用于路途中御寒。身上穿着一套既适合上班又适合机场休息的舒适服装,背包里背上登山鞋和电脑。轻轻松松出发啦!
Sunglasses I just got from Quay. They are very lightweight and require lower maintenance. Last thing you want when you're out there on the hiking trail is to worry about dropping them on a rock or, worse, losing them.
墨镜是在平价墨镜推荐 | 花小钱也可以拥有时髦新鲜的夏天中推荐的Quay,是的没错写完这一篇我自己就去买了两幅。去徒步爬山时带非常合适,轻便无负担又抗造,怎么磨擦摔打也不心疼。关键也够有型。
Day 1, Saturday
Wearing:
T by Alexander Wang tank: here
Minkpink sports bra: here
Track & Bliss leggings: here, similar here or here
 Topshop bomber jacket: here, different color here
Timberland boots: here
I came up with a formula for the hiking trip way ahead of time because I have my mind set — I want to challenge myself and have my body worked out, and that equals:
Sports leggings + sports bra + a tank top + hiking shoes
因为早打定主意是认真要去活动筋骨挑战极限的,所以这次两天徒步旅行的搭配也早想好一个心机又实际的公式:
运动Leggings + 运动Bra + 外罩小背心 + 专业登山鞋
This formula is cut down to the minimum of what you need on a moderate hike. You don't want to be carrying stuff you don't absolutely need because they would just be an absolute drag later.
If it gets hot, just take off the tank top and wear the sports bra as the top.
实用在于,整套都是专业运动装,是最最轻松无负担的徒步搭配。运动Bra外罩小背心的穿法,Hike热了时可以随时把背心脱下,外露运动Bra也看起来既健康又专业。
The scenery was just astounding.
一路上的风景如画
Break time, selfie time.
---
Day 2, Sunday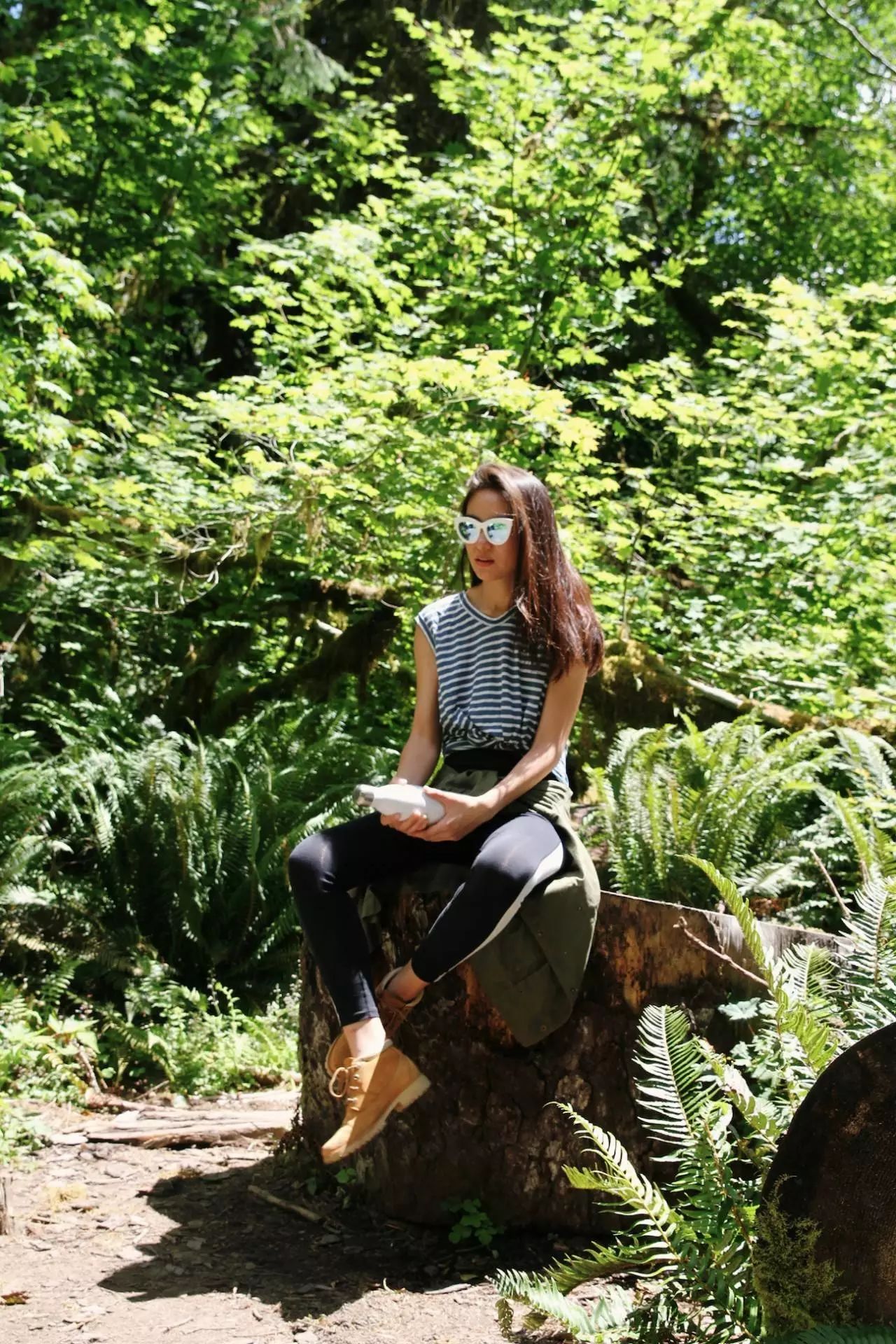 Wearing:
Wilt tank: here
Varley sports bra: here
Nike leggings: here
Quay sunglasses: here
Timberland boots: here
On the second day, we were deep in the forest. There wasn't much elevation as the day before, and shouldn't be that big of a deal, but I was crawling towards the end.
Still applying that formula of mine: leggings + sports bra + a tank top.
第二天的行程是去走雨林,路程计划是16公里左右。虽然大部分都是平路,elevation没有前一天高,但也够我累的了。几乎没有什么多余力气拍照,随便看看吧。还是Leggings + 运动Bra(没有露出来) + 背心的穿搭公式。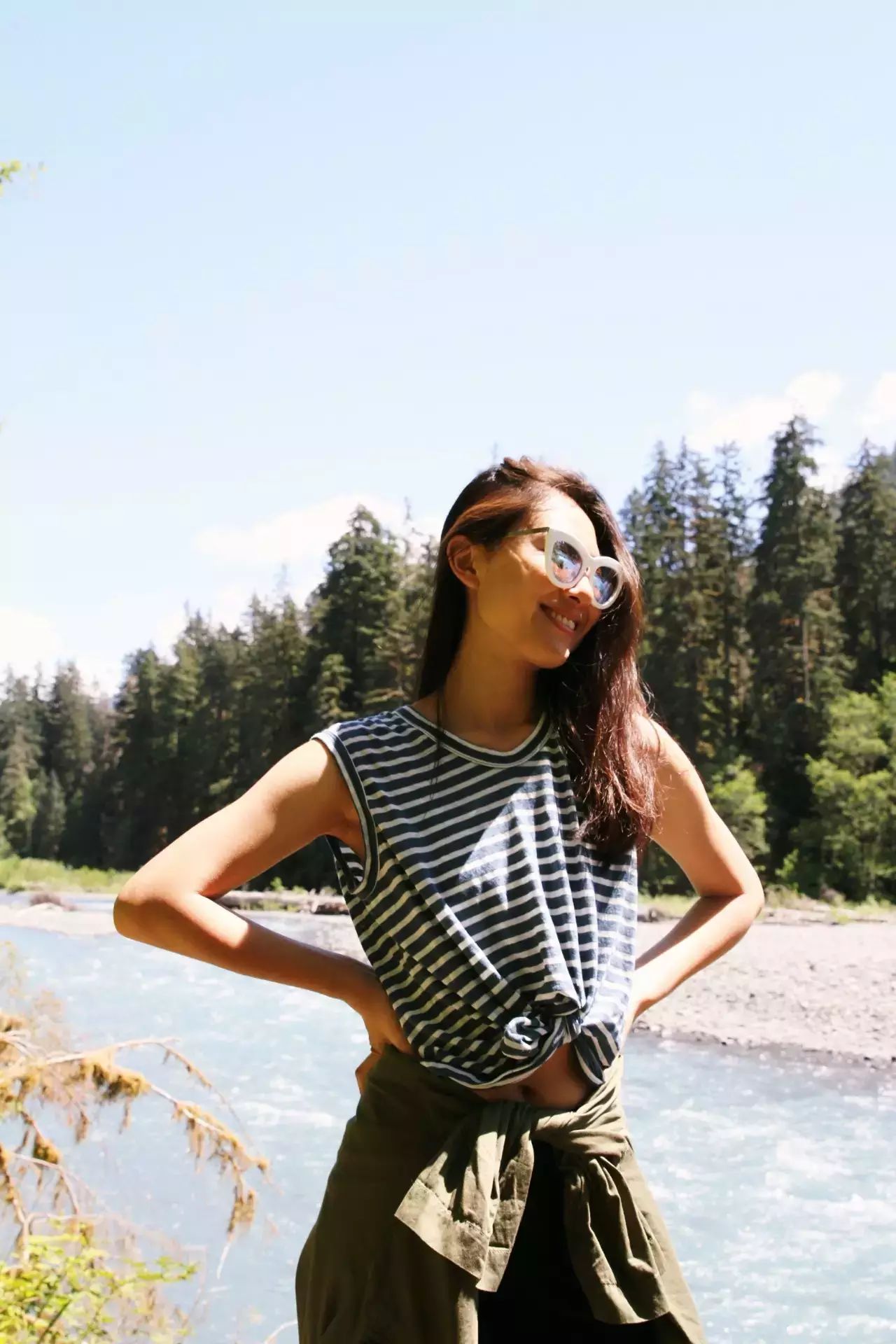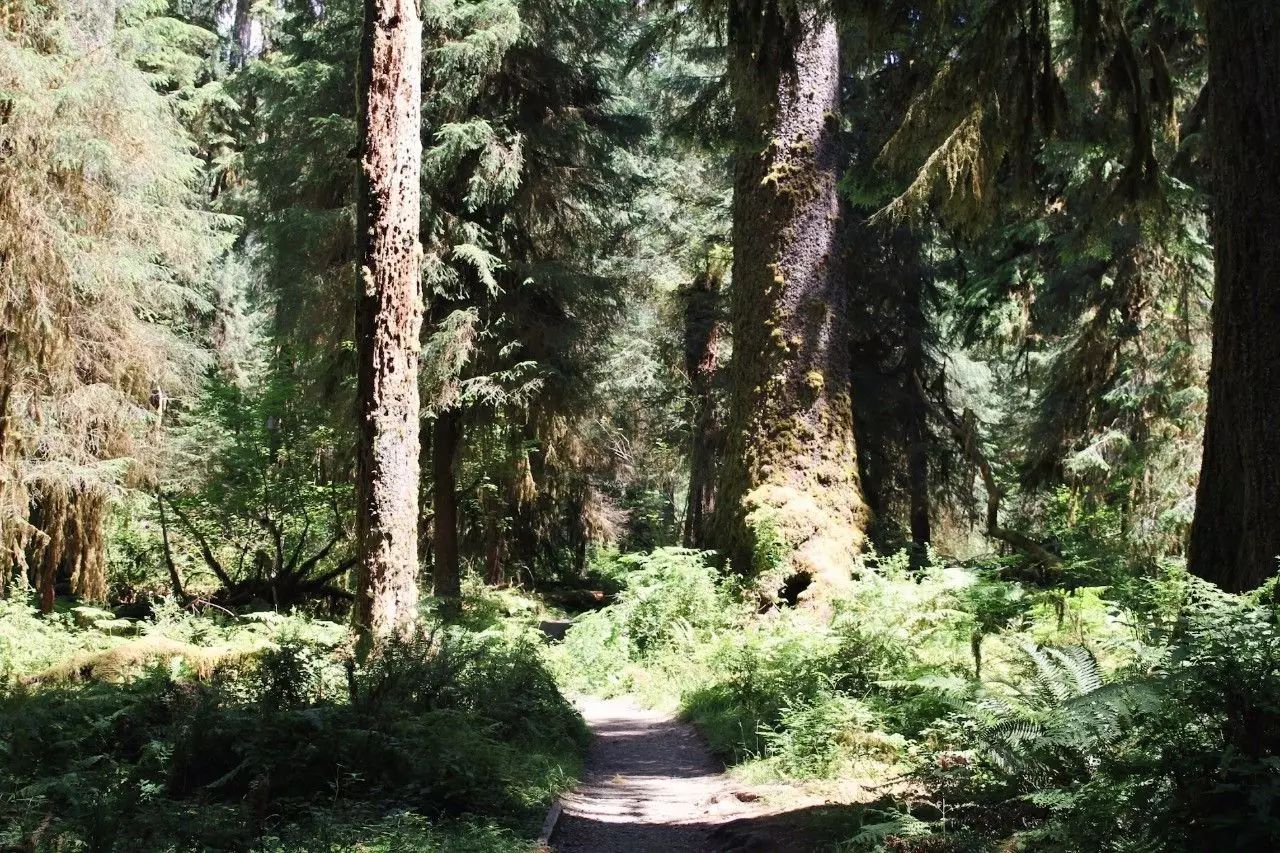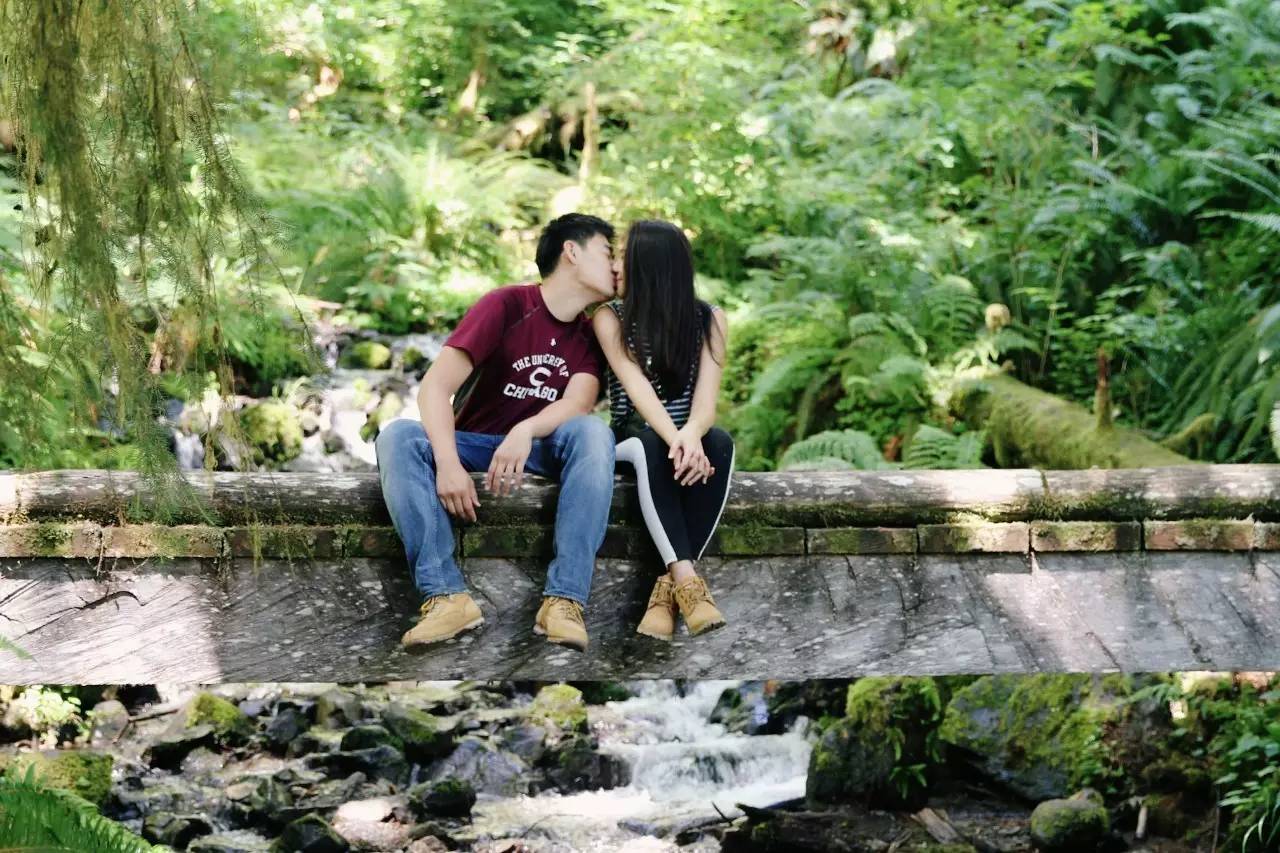 ---
Day 3, Monday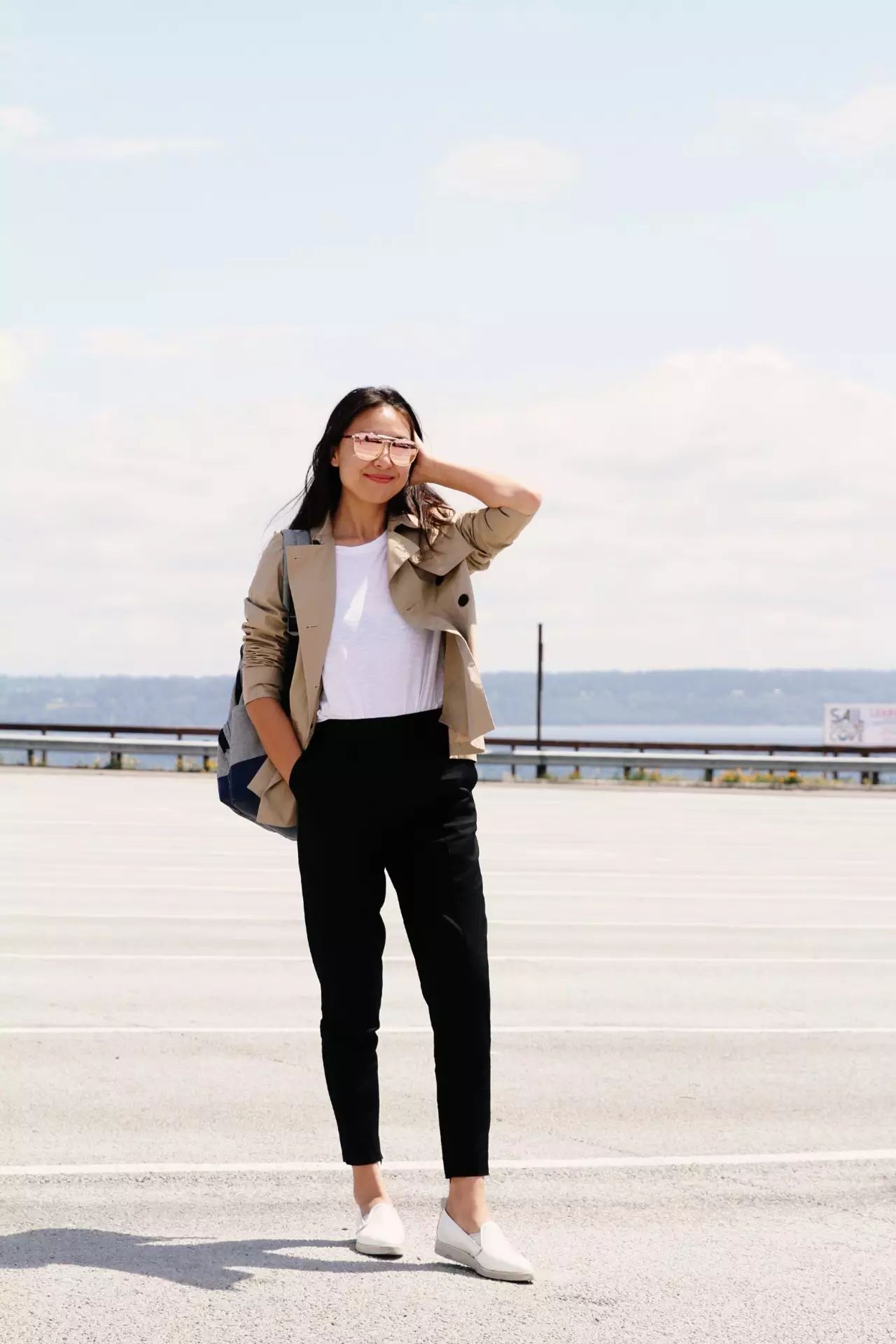 Wearing:
Everlane trench coat: here
Everlane pants: here
Everlane leather shoes: here
Everlane backpack: here
Feel the Piece white t-shirt: here, similar here or here
We woke up in pain. After two days of extensive hiking, we were sore all over, could not walk. Our original plan was to hit the park again, instead, we had a relaxing breakfast at the cabin and then drove to Seattle to see some old friends. And off we went to the airport.
第三天早上醒来,腿已经感觉不是自己的了,每走一步都超痛。不只是我,我们一行四个人,个个变僵尸,行走非常地蹒跚迟缓。所以就放弃了本来计划再去公园里玩儿一下的安排,早上悠闲地在我们租的小木屋里吃了早餐,开往西雅图见了旧友,就去机场啦!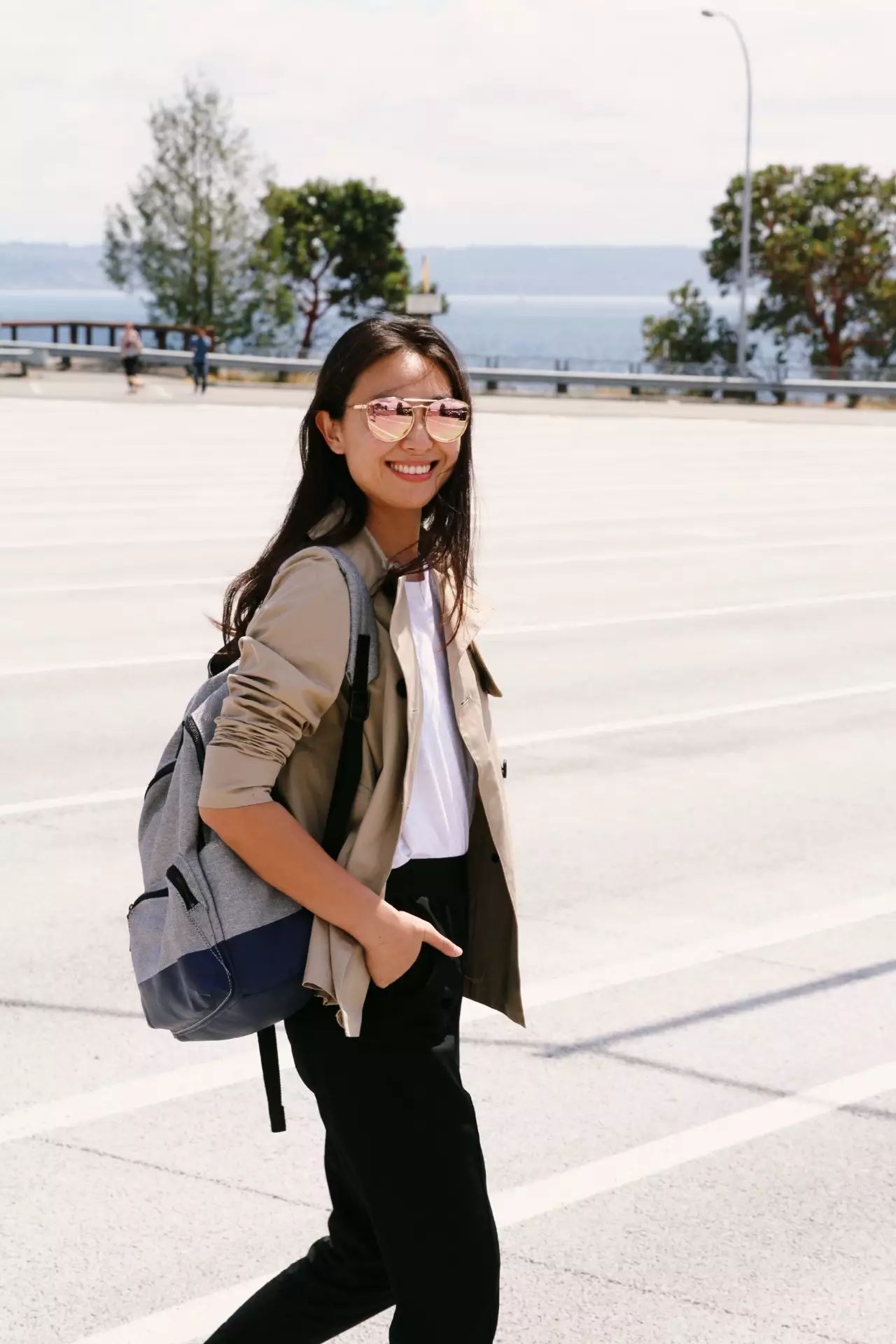 Because I came directly from work, so I picked something that's appropriate for the office setting but also comfortable for travel.
为了行李轻便,旅程的来回在飞机上其实穿的都是这同一套。而且因为从LA出发时我是直接下班后开去机场的,就选了上班穿也很得体的黑白搭,配上风衣+背包,简约又轻巧。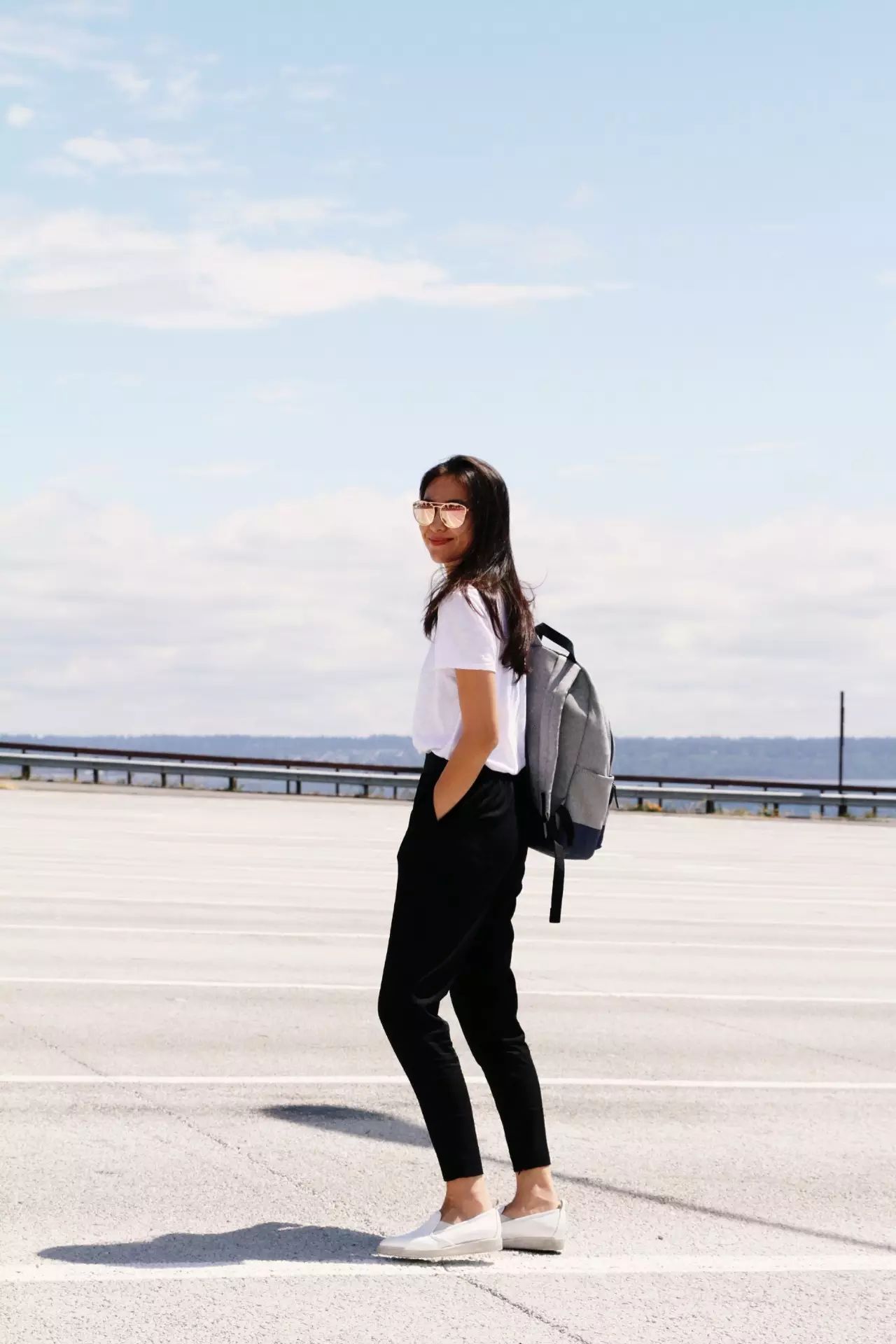 It says track pants, but they are made of wool instead of cotton and have a suit pants design. No need to mention how soft and comfy they are! Elasticized waist, zip at the ankle, pull, zip and go!
Everlane的Go weave track pants,刚开始看到是track pants,还以为是运动裤型,但拿到手才发现是纯羊毛质地,面料剪裁都是西装裤的感觉,但舒适度却和运动裤没有两样。弹性腰围,裤脚带有拉链,可以说是蛮完美的一条通勤裤装了,pull, zip and go。穿上就可以轻松自如在都市穿梭的感觉。
关键是剪裁真的很棒,高腰设计+流畅的裤型,会显得腿非常修长。来看看官网Lookbook,就是左边的图片让我立马决定要买一条的。干净简约,低调的高级感又带点法式chic。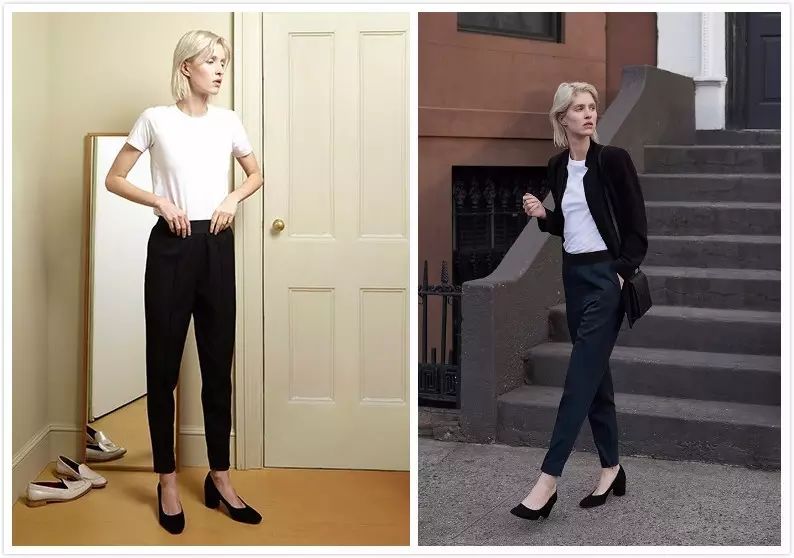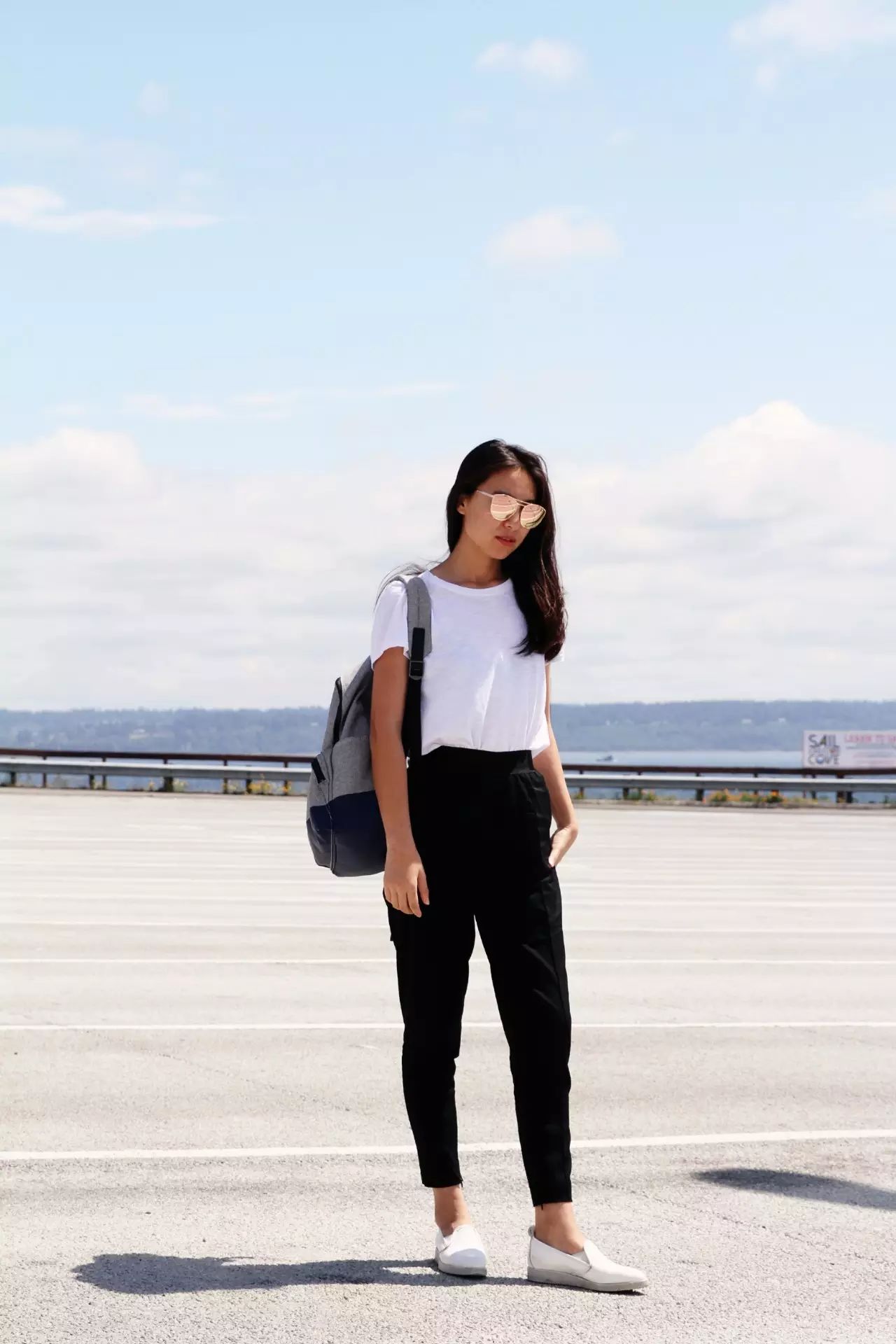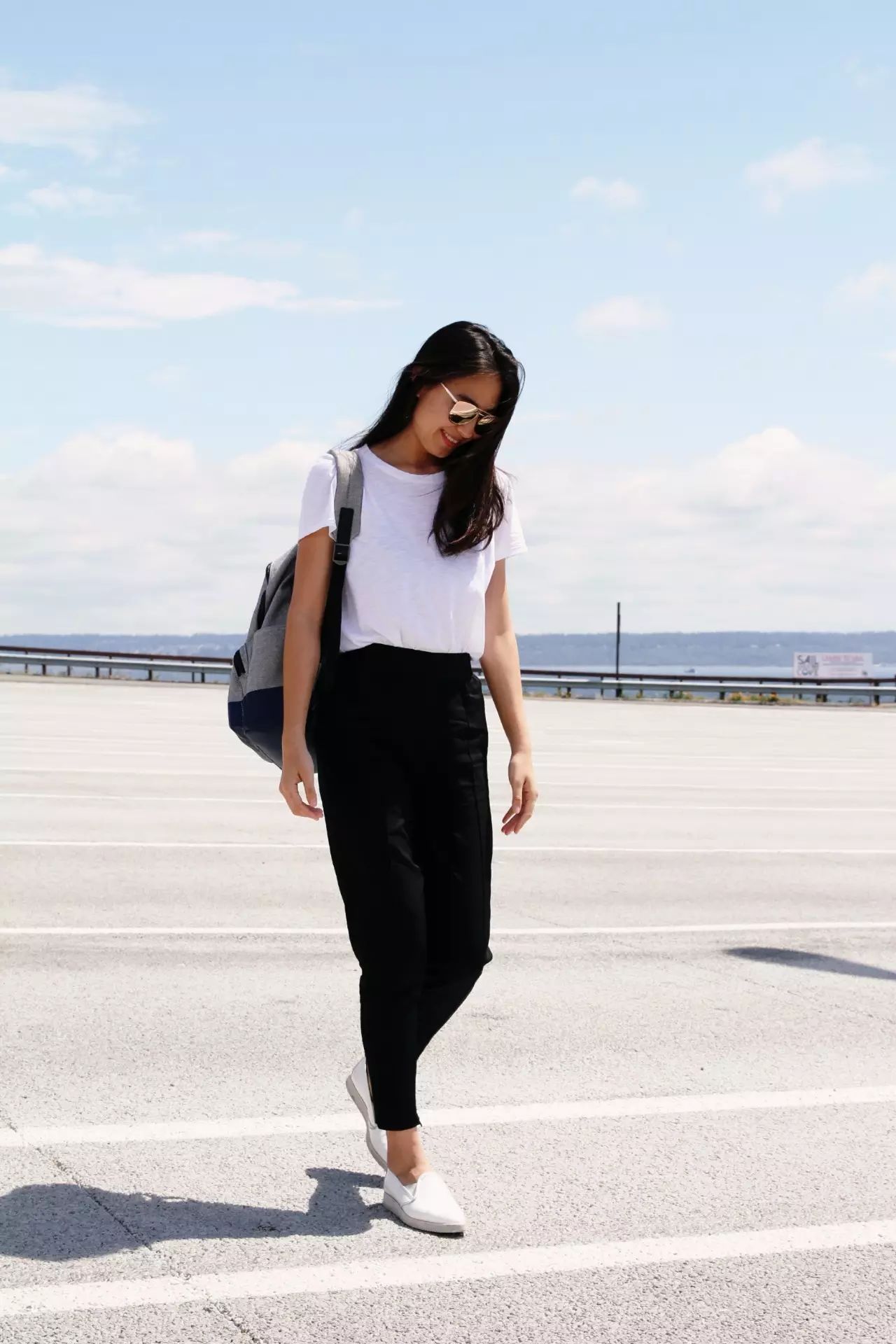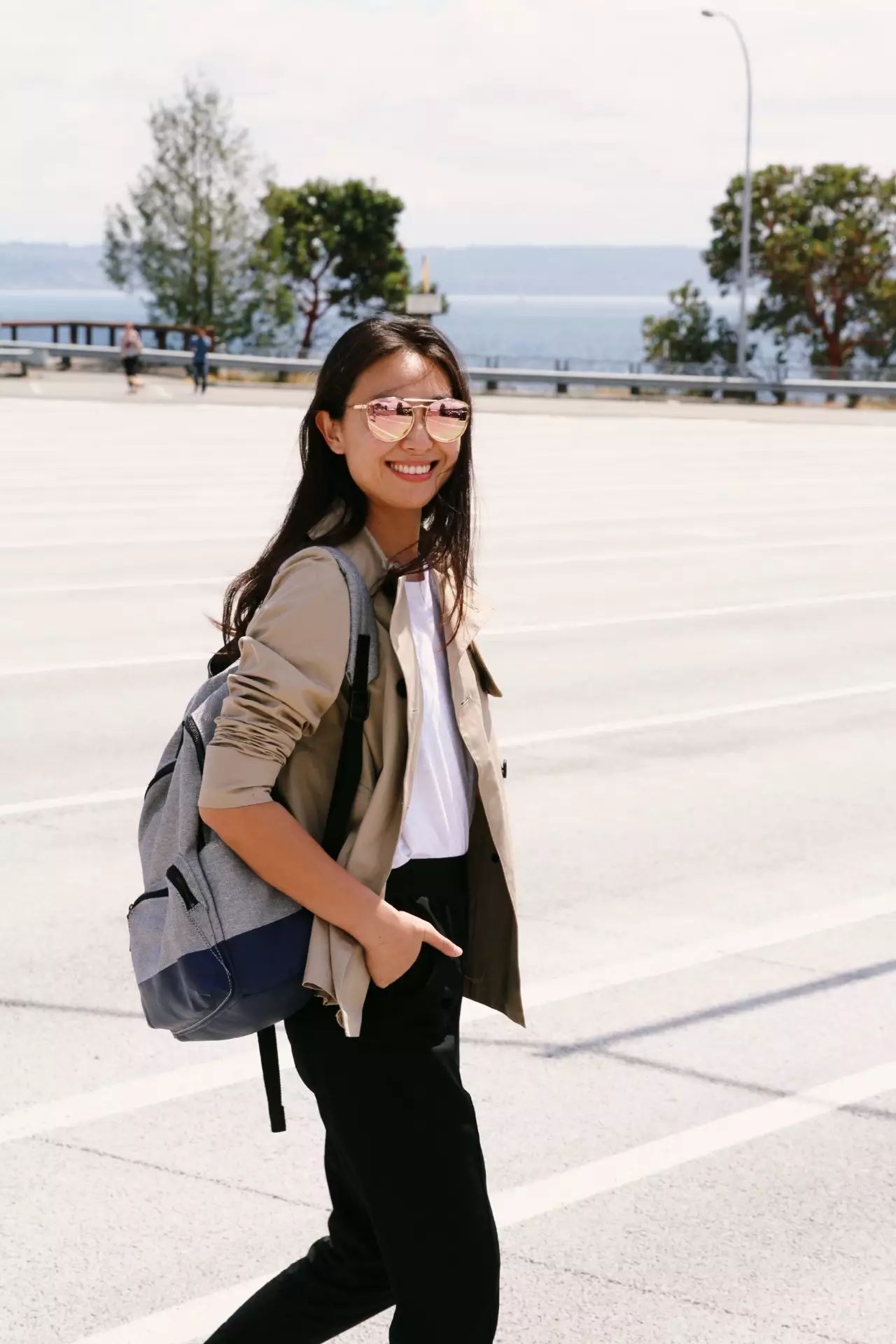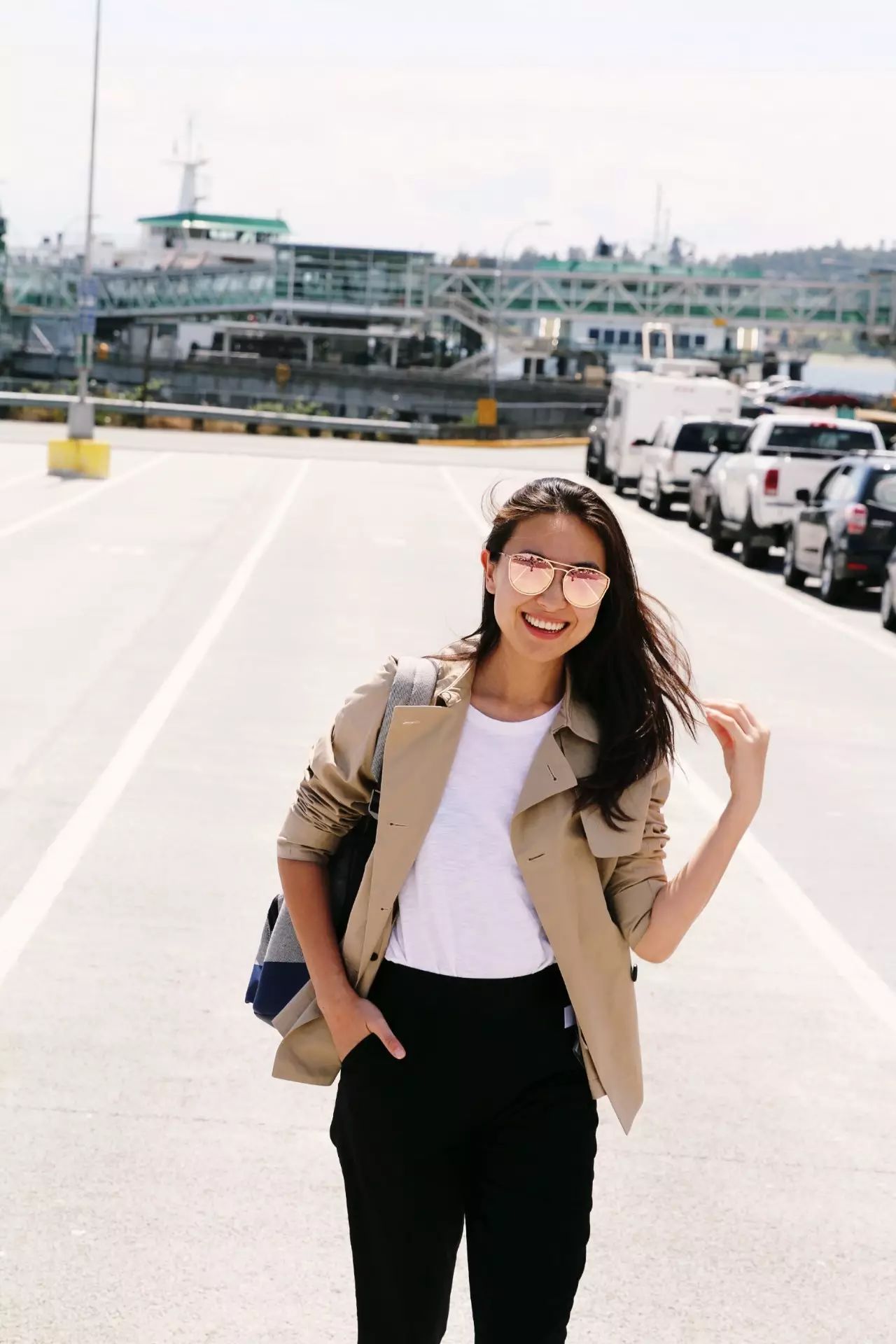 Thank you for reading! 感谢大家阅读!